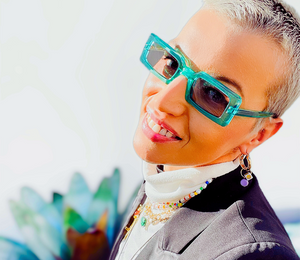 Ciao,
I am Emanuela,
 a woman with passion
and fire.
Creator of Face Furniture and Other Things located  in the heart of Redfern.
They call me the Inside out Stylist and  I love it.
A passionate eyewear stylist and colour stylist consultant born
and raised in a little village in Northern Italy, nestled in the breathtaking
region of the Dolomites mountains.
Renowned for its high-quality craftsmanship in eyewear
production, my roots have instilled in me a deep appreciation for the art of
style.
After embarking on an adventurous journey, I found my new
home in the captivating land of Australia.
It took time to settle in and  learn the language, but I persevered, fueled
by unwavering love for expressing oneself through fashion, style and beauty. I
firmly believe in the profound  impact
that feeling and looking great can have on our inner selves and how we project
ourselves to the world.
In my pursuit of excellence, I have honed my skills and
become a sought-after eyewear stylist, recognized for my expertise  in the field.
However, my mission extends far beyond mere style.
My mission is clear: I facilitate people to see clear the
inner world and the outer world.
Some may wonder the combination of eyewear and healing, as
it may seem unconventional. But I invite you to consider this:
It's all about loving yourself inside out.  I wanted to create a different approach to wellness,
in combining fashion forward Eyewear design with the magic of  mind body spirit work
When we master self-love and alignment, we unlock the
ability to fully love and connect with others.
By nurturing our inner selves, we enhance our capacity to
contribute positively to the world around us.
In 2016, my personal healing journey began when I became
aware that feeling good on the outside was not in full alignment with how I felt
within.
It has been a powerful transformative journey of
self-discovery, healing and growth, unveiling layers of my true identity and
purpose.
Driven by this newfound awareness, I expanded my knowledge and
obtained certifications as master of Nlp, Time Line Therapy, Reiki Master,
Sound Healer, and Systemic Therapy Practitioner.
Clients fondly refer to me as ' the inside out stylist'
because I guide them on a holistic journey of self-discovery, where we heal
their body, mind and spirit.
Whether we begin our journey from the Inside or the outside,
what truly matters is that we start somewhere, I firmly believe in the power of
personal transformation, not only for ourselves 
but also for future generations.
Join me in this beautiful journey of
self-discovery, where clear vision and self-love intertwine, allowing us to see
ourselves and others with clarity, compassion, and unwavering authenticity
STYLE ME PLEASE
THE SHOWROOM
86 Redfern St
REDFERN NSW 2016
AUSTRALIA
Eyewear Showroom Mon - Sat ,10.30am - 5pm
Reiki & Sound Healing Available after 5pm by appointment
Sunday by Appointment


PS: ALWAYS GOOD IDEA TO CHECK IF EMANUELA IS IN STORE SOMENTIMES SHE OPERATES LIKE A REAL ITALIAN
"NOT ON TIME ' lol
CALL OR TEXT 
0424390797